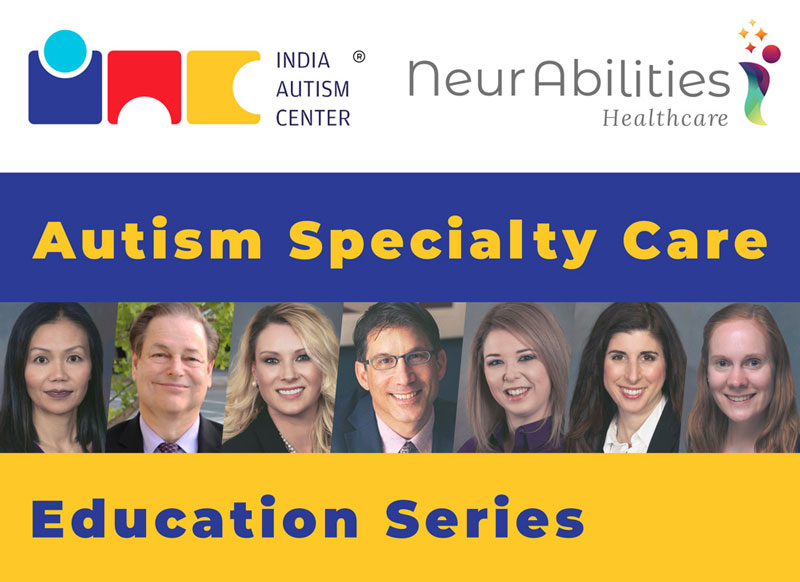 The India Autism Center and NeurAbilities Healthcare have partnered, across continents, to create a FREE webinar series focused on a multi-specialty care approach to diagnosing and treating autism spectrum disorders.
This six-part series will explore a range of issues relevant to parents, guardians and professionals supporting individuals with autism. Topics will address medical approaches to care, behavior intervention techniques, and strategies to support learning and socializing. Please join the India Autism Center, along with an expert team of physicians, psychologists, and behavior analysts from NeurAbilities Healthcare for an informative series.
Webinar times are listed in both Eastern Standard Time, and INDIA Standard Time for our international participants.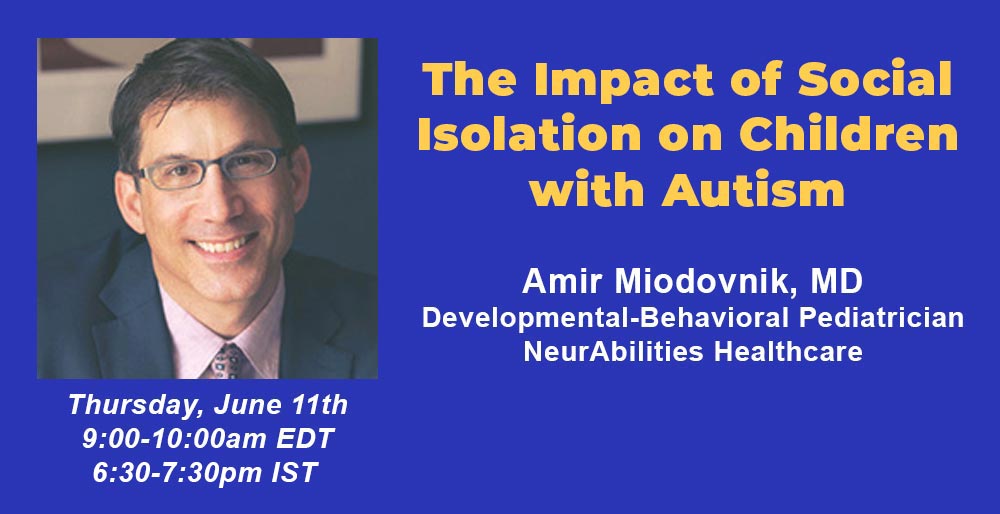 COVID19 has made social isolation a feature of everyday life.
While this has certainly contributed to flattening of the curve, it has also placed an additional stress on families already struggling to build their child's social skills. One would expect that a sudden disruption in therapies and routines would lead to skill regression and challenging behaviors. In this webinar, NeurAbilities' developmental-behavioral pediatrician, Dr. Amir Miodovnik, discusses the effects of social isolation on children with autism spectrum disorder and other developmental delays and how families can address some of the unforeseen consequences of the quarantine.
This webinar will be informative for parents and caretakers of children with autism and developmental disabilities. There will be time for questions and answers.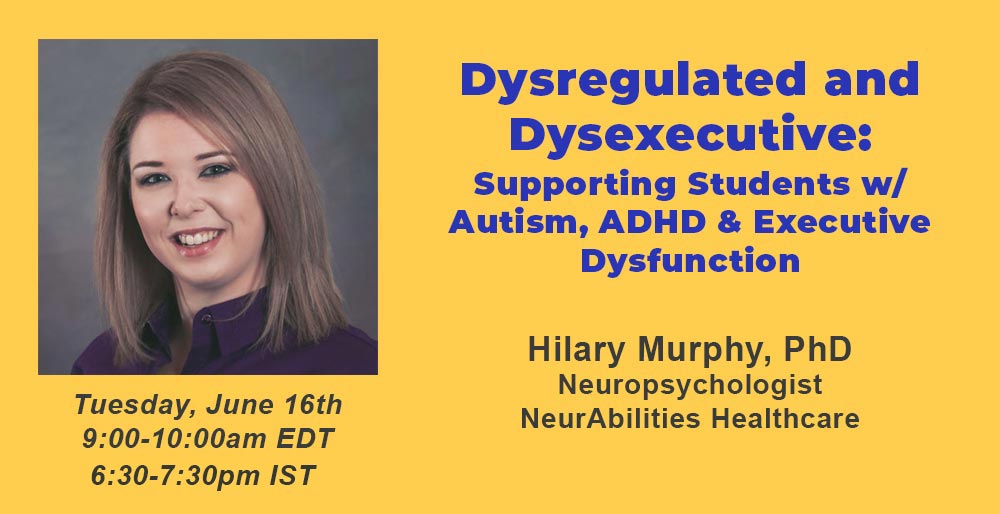 Children with Autism Spectrum Disorders often also exhibit weaknesses across higher order cognitive functions including executive functioning. Research has established that these skills which include working memory, planning, organization, mental flexibility, and time management begin to develop in early childhood and contribute to academic and social success throughout life.
This workshop will focus on identifying the skills under the umbrella of executive functioning, and clarifying the relationship between these factors and student educational and social-emotional skills. A review of the role of neuropsychology in identifying these skills as well as skill based interventions will also be included.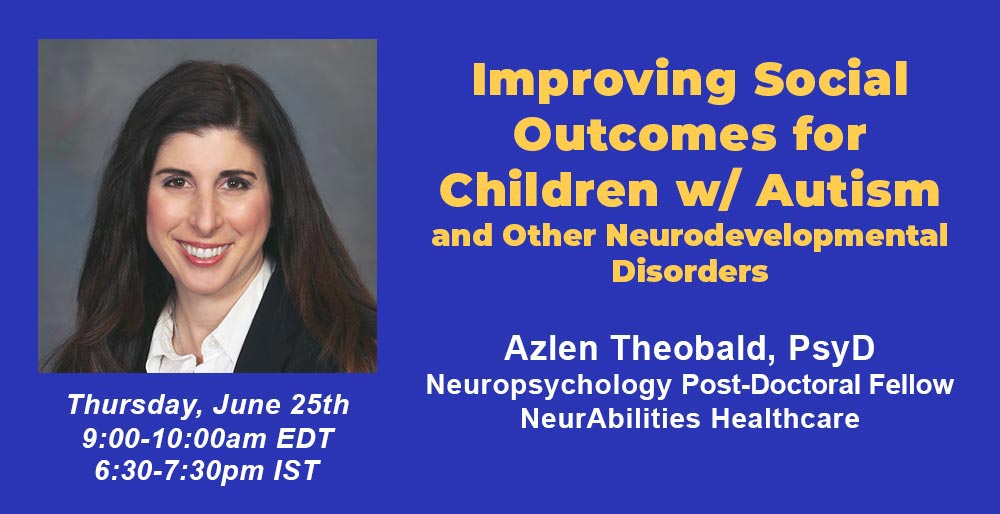 An estimated 5% to 10% of the population are affected by neurodevelopmental disorders. Children with disabilities are at risk for peer rejection and stigmatization, which often leads to feelings of depression and isolation. Finding ways to help peers better understand the symptoms and presentation of neurodevelopmental disorders, such as Autism Spectrum Disorder, can greatly improve social outcomes and reduce mental health risk among this vulnerable population.
This webinar will focus on strategies to help increase positive social interactions for children on the Autism spectrum and for those who experience other neurodevelopmental disorders.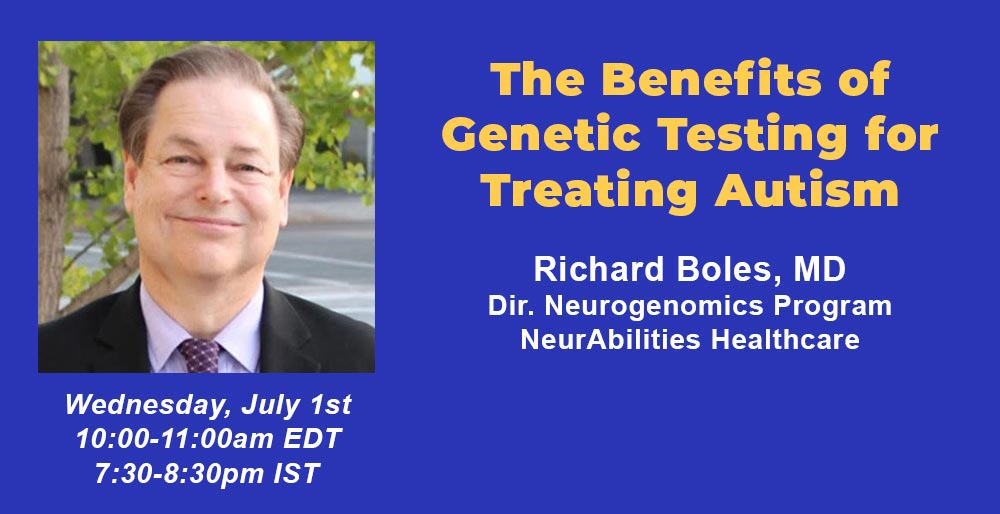 Have you ever wondered if there is an underlying cause related to your child's autism spectrum disorder? Or, are you curious to know if there are additional treatments that might be recommended for your child's condition or symptoms? Genetics is a "hot topic" seen frequently in the news, yet, how it can benefit our lives is not always easy to understand.
In this webinar, NeurAbilities' geneticist, Dr. Richard Boles, will discuss genetics in easy-to-understand terminology. Dr. Boles will also discuss what type of genetic testing is most beneficial to gather relevant information for children with autism, what the results may indicate, and which genetic testing companies offer the best results. This webinar will be informative for parents and professionals. There will be time for questions and answers.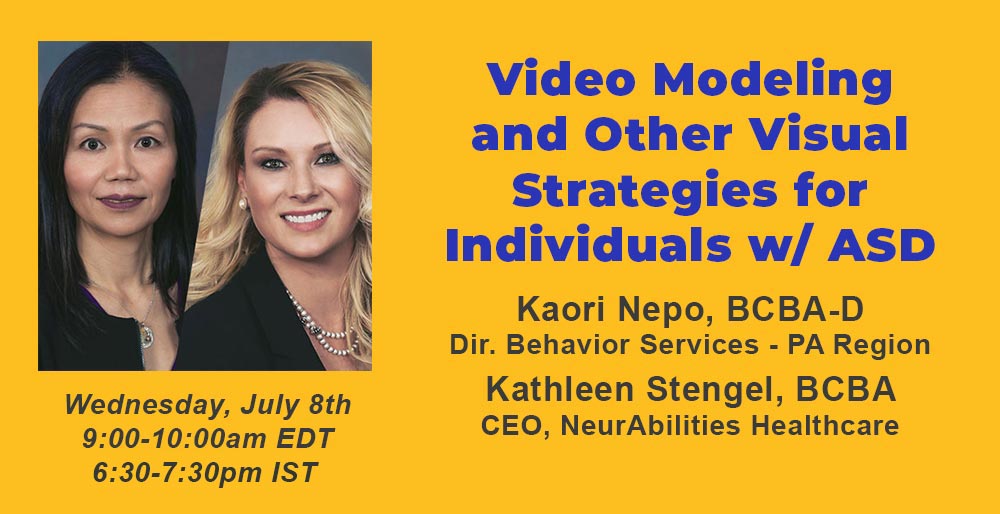 Individuals with ASD often responds to verbal stimuli successfully when they are paired with visual stimuli. Video modeling is one of the effective strategies to teach them new skills. There are many other visual strategies to promote learning and independence such as visual schedule, token board, and augmentative and alternative communication systems. In this presentation, instructors will address effective ways to implement these strategies with examples. Further, the instructor will provide practical tips and a time for Q & A.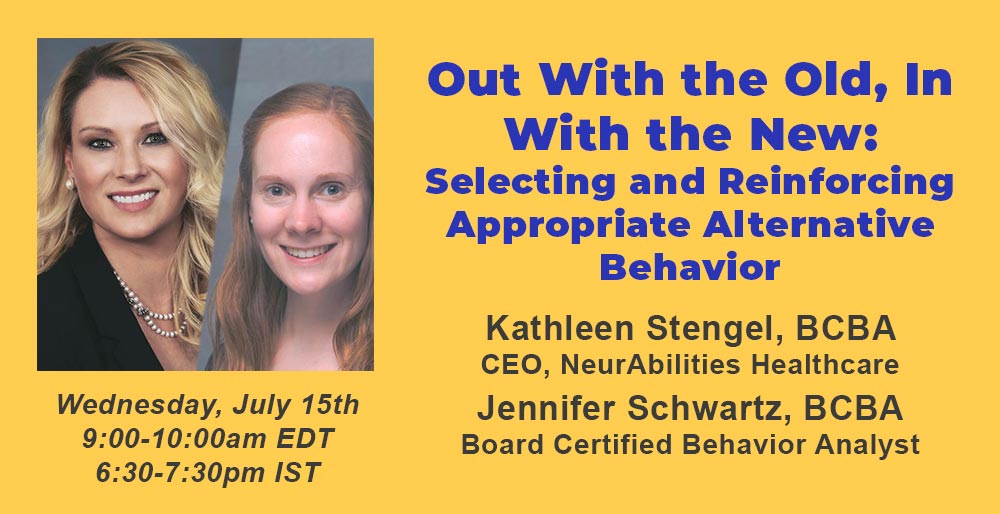 Many individuals with Autism Spectrum Disorders engage in challenging behaviors that pose a safety risk to their families and others. These behaviors may prevent them from achieving their full potential and can be taxing on their caregivers.
This webinar will guide parents and beginning practitioners on the steps of:
1) identifying a behavior that needs to change,
2) determining why the child might engage in that behavior, and
3) replacing the challenging behavior with an appropriate alternative.