Your
First Step
to Understanding
A neurology evaluation is an important first step in understanding your symptoms. Our expert, board certified clinicians will assist you in determining if there is an underlying neurological or medical cause for your or your child's condition or illness.
Comprehensive
Evaluation Process
Discussion of presenting concerns
Review of medical history
Physical & neurological examination
Discussion of clinical findings
Suggestions for diagnostic testing
Outline of treatment recommendations
Comprehensive written report
You and your child will have periodic follow-up visits and continuous access to our interdisciplinary team of experts and professionals, every step of the way.
State-of-the-Art
Diagnostic
Tools
Our experts use state-of-the-art technology to test brain function and gain a better understanding about each person's functional abilities–cognitive, intellectual, emotional, motor, etc. 
A
Personalized
Treatment Approach
We take a personalized approach when it comes to treatment, targeting ways to address underlying mechanisms and treat symptoms that are unique to you or your child. Together, we explore optimal interventions that may or may not include medication. Wherever you are in your journey, we know it's unique to you or your child. We are with you on the journey. 
"The neurologist and the neuropsychologist were able to put "both pieces of the puzzle together". Hear in Teresa's own words about her experience from her perspective as a working family physician…"
From the
Hope
Matters Blog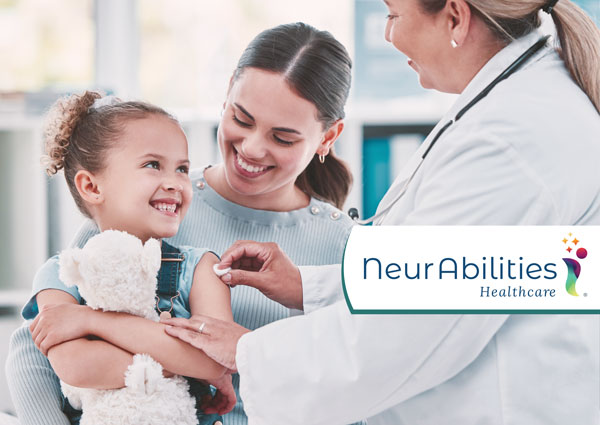 In-House Lab Services Now Available in our Voorhees NJ Office | Walk-In's Welcome We are excited to share that lab services are now available in the NeurAbilities...

Existing Patient Appointments
Billing and Insurance Information
Request Prescription Refills
Our Mission
To transform the lives of patients through precision medicine, behavior sciences, and therapeutic treatments with compassion, dignity, and respect.
Our Vision
To provide hope and achieve positive outcomes for those we serve.
Our Values
Compassion ✦ Collaboration ✦ Integrity ✦ Excellence ✦ Joy
NOTICE: This website is for informational purposes only and is not intended as medical advice or as a substitute for a patient/physician relationship.
NeurAbilities Healthcare does not exclude, deny benefits to, or otherwise discriminate against any person on the grounds of race, color, or national origin, or on the basis of disability or age in admission to, participation in, or receipt of the services and benefits of any of its programs and activities or in employment therein. This statement is in accordance with the provisions of Title VI of the Civil Rights Act of 1964, Section 504 of the Rehabilitation Act of 1973, the Age Discrimination Act of 1975, and Regulations of the U.S. Department of Health and Human Services issued pursuant to the Acts, Title 45 Code of Federal Regulations part 80, 84, and 91.
© NeurAbilities Healthcare. 2023. The NeurAbilities Logo is a registered trademark.