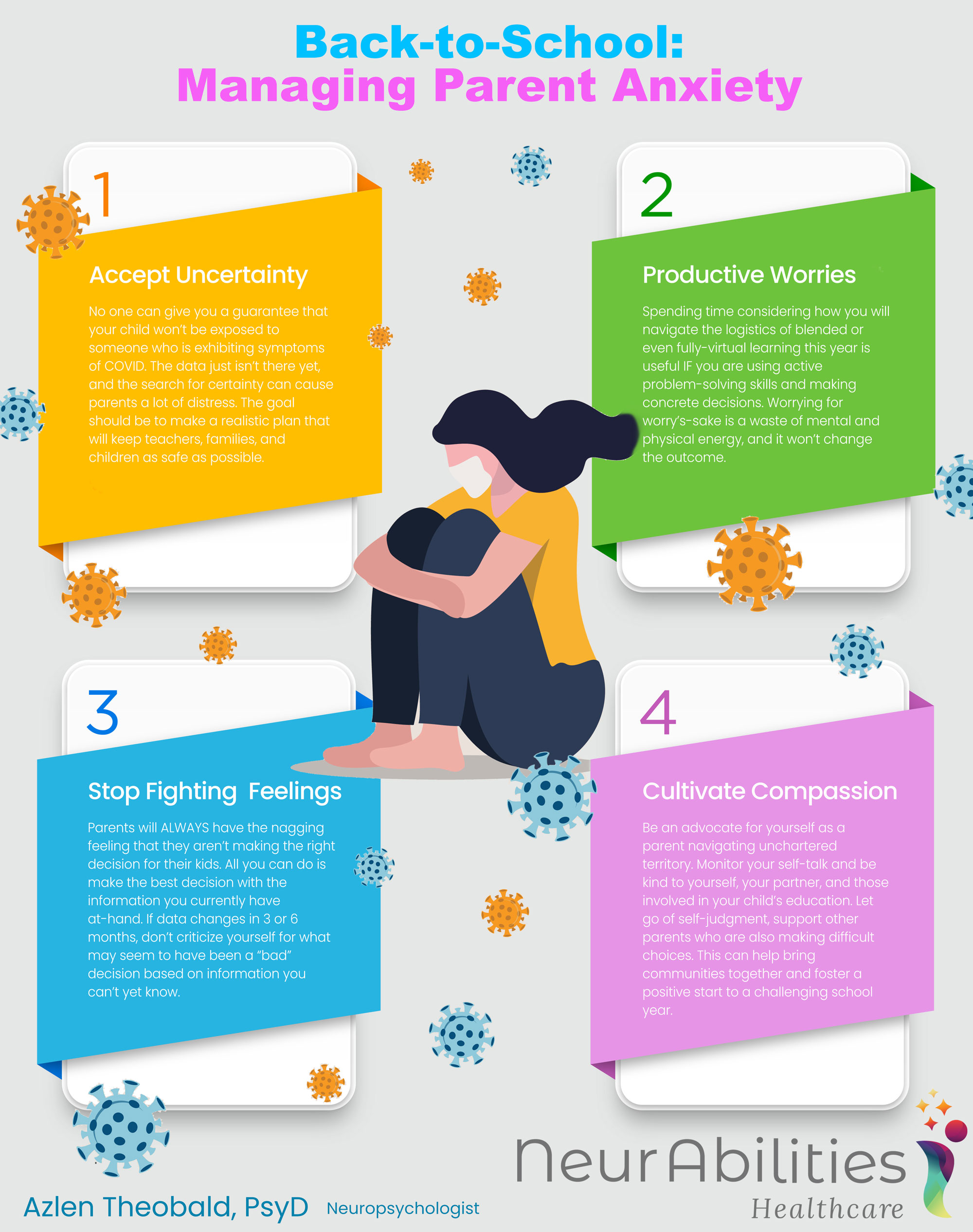 1) Accept Uncertainty – No one, not even your doctor, can give you a guarantee that your child won't contract COVID or be exposed to someone who is exhibiting symptoms of COVID. The data just isn't there yet, and the search for certainty can cause parents a lot of distress. The goal is not to guarantee your child will never be exposed to a virus (although that would be fantastic), but rather to make a realistic plan that will keep teachers, families, and children as safe as possible.
2) Differentiate Between Productive and Unproductive Worries – Ruminating about the precautions your child's school is taking is not helpful because parents have little control over those details. However, spending time considering how you will navigate the logistics of blended or even fully-virtual learning this year is useful IF you are using active problem-solving skills and making concrete decisions. Worrying for worry's-sake is a waste of mental and physical energy, and it won't change the outcome.
3) Stop Fighting With Your Feelings – Parents will ALWAYS have the nagging feeling that they aren't making the right decision for their kids. All you can do is make the best decision with the information you currently have at-hand. If data changes in 3 or 6 months, don't criticize yourself for what may seem to have been a "bad" decision. You can't make decisions based on information you don't yet know.
4) Cultivate Compassion – Be an advocate for yourself as a parent navigating unchartered territory. Monitor your self-talk and be kind to yourself, your partner, and those involved in your child's education. Let go of self-judgment, and don't look around at what others are doing. Everyone has their own difficult decision to make for their child(ren) right now. Supporting other parents who are also making difficult choices can help bring communities together and foster a positive start to what will likely be a challenging school year.