Utilizing An Interdisciplinary Approach to Behavior Safety Following COVID-19: A Medical-Behavioral Model of Safe Care
AUTHORS:
Kathleen Stengel, MS, BCBA, CEO, NeurAbilities
Lisa Alberts, DNP, APRN-BC, PMHNP-BC, Psychiatric Advanced Practice Nurse, NeurAbilities
Sandra Lewis, MSS, MLSP, Director of Marketing & Community Affairs, NeurAbilities
Operating an outpatient specialty-care medical and behavioral health practice inherently has challenges, especially when serving a neurodiverse population. Assuring quality services provided in a comforting environment that is patient centered, compliant, and yields significant clinical outcomes never included planning for COVID-19. While there have been operational barriers for many practices over the past two months, there have also been opportunities for recognizing and capitalizing on an organization's assets. As experts in neurological and behavioral sciences, NeurAbilities Healthcare providers are in a unique position to look within their respective and complementary fields of study for how to safely serve patients and protect essential staff during this pandemic.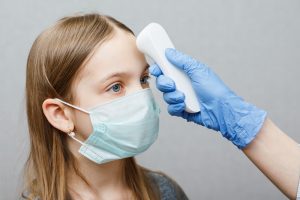 Currently, as we write this article, there is not an agreed upon treatment nor an approved vaccination for COVID-19. Expert recommendations suggest prevention strategies as most effective in reducing risk for patients and staff. Consequently, clinical practices have been forced to balance their current and ongoing challenges with delivering necessary services under new safety guidelines and restrictions. In many cases, healthcare delivery has shifted from a clinician- to-patient model to a remote technology- driven modality. While advancements in technology have provided clinicians and patients the opportunity to continue care via telehealth, experts and patients agree that not all treatment can occur remotely. This raises the question of how to safely transition to providing services in-person during these unprecedented times.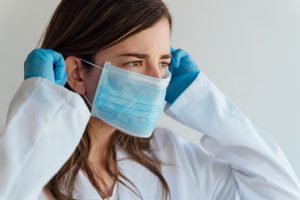 As an interdisciplinary team of healthcare providers, we are fortunate to have in-house experts to monitor and interpret CDC protocols, establish prevention strategies and implement behavior change programs that are essential to providing in-office patient care. With a team of medical and behavior experts, NeurAbilities has developed and implemented critical prevention strategies through increasing safe behaviors of patients and staff alike. Our medical professionals have defined specific safe behaviors while the behavioral team has created a plan for training and continued occurrence.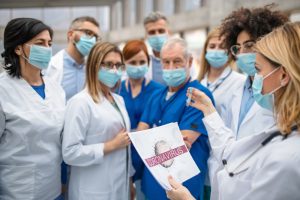 A behavior safety plan that includes defining specific safe behaviors, clarifying tasks required, providing clear prompting and setting up an environment that supports safe behaviors will be necessary to mitigate risk. In other words, it is necessary to establish clear and sequential steps for staff and patients entering a building, completing symptom checks, hand washing, and completing sanitizing schedules along with other recommended CDC protocols to safely reopen and serve patients. Our medical and behavioral clinical staff have created an environment to support these behaviors with clear prompts throughout each of the safety processes, behavior rehearsals and training as well as a culture of feedback and social reinforcement to support infection control.  
There will always be daily challenges in operating any successful clinical practice. As clinical practices start to re-open to accommodate patients needing to be seen in person, maintaining protocols related to the spread of COVID-19 does not need to be an added daily burden. With the implementation of clear safety protocols, personal protective equipment, and effective behavior change strategies, clinical practices will be well equipped to serve patients in person during this time of uncertainty, safely.