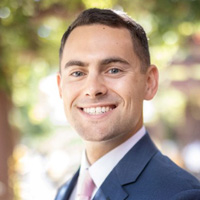 Geoff Crisanti
Chief Operating Officer
As the Chief Operating Officer of NeurAbilities Healthcare, Geoff Crisanti oversees the day-to-day operation of behavior and medical services and is integral in the expansion of these much-needed services to individuals throughout Pennsylvania and in New Jersey. Mr. Crisanti also oversees People Operations Services (POPS) to ensure the health and wellbeing of our team.
Prior to assuming the role of COO, Mr. Crisanti had consulted for NeurAbilities since 2021. With leadership experience for a variety of healthcare settings, including Aspire Health and Davita, Mr. Crisanti brings expertise in business analytics, process improvement, and operational management to the organization.
Mr. Crisanti received a Bachelor of Science degree in Biomedical Engineering and Bachelor of Business Administration, Finance from the University of Texas. He also earned a Master of Business Administration from Duke University.
In his spare time, Mr. Crisanti enjoys trail running, reading fiction books, and finding the best Thai restaurant in town with his wife.